Eaziwrap FAQs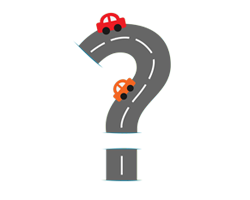 What is a vehicle wrap?
Car wrapping is the process of covering a car in a thin, pliable vinyl. Often used as a branding exercise or to enhance the aesthetics of a vehicle. Car wrapping allows you to utilise the surface of your car as a space to add some vinyl stickers in various colours and shapes.
How does the vinyl actually stay on? Is it glued?
Eaziwrap stickers are made from a large sheet of vinyl which comes on a roll which has a backing that peels off – much like a sticker. The back of the vinyl (sticky side) adheres to the panels of your vehicle, giving a simple and perfectly smooth, tactile finish.
How easy is it to fit the product(s) I've ordered?
All our products have been designed to be installed easily and most of our vinyl stickers are a simple peel and stick. You will receive instructions, tips and advice with all purchases.
Some of the products we sell have more specific instructions and you will receive both written and video instructions.
If however you need further support please get in touch
My cars on lease are you products suitable?
Most of our customers have leased cars and the good news is all the products we offer are 100% reversible. This means your car can go back to the lease company as It arrived to you.
To remove a vinyl sticker you simply need to apply low heat using a heat gun or hairdryer. Apply the heat over the vinyl which will soften the adhesive and then simply peel off.
Never remove any vinyl without applying heat, failure to do so can cause damage to your paint.
How long does vehicle vinyl/ decals last?
Vinyl wraps are not permanent and offer a temporary colour change. Here at Eaziwrap we always use premium vinyl for all our products which are designed to last 5-7 years ensuring they are maintained properly.
Will a vinyl decal damage my paintwork?
If your paintwork is of a good standard when the wrap is applied, then the vinyl will not damage your paintwork.
Do I need to take any special care before installing a vinyl sticker?
As you would expect we recommend all surfaces are cleaned thoroughly. It is highly recommended you use some isopropyl alcohol (IPA) to clean surfaces and also act as an adhesion promoter for vinyl.
If you don't have IPA you can use some lighter fluid or diluted washing up liquid to clean surfaces.
Do not use car shampoo or any wax based cleaning products as this will stop the adhesive on the vinyl from sticking to the surface.
Caliper stickers/Engine Stickers wont they just melt?
No they will not and vinyl is widely used for this surfaces all around the world, as long as you have de-greased the surfaces properly before application as mentioned above the vinyl will not peel off as it is heat resistant. Surface grease will be the only reason vinyl will not stick to these surface therefore you should ensure its all cleaned properly before installing.
Wheel Vinyls wont they just come off when i wash the car?
This is very common misconception many people have and we have applied vinyls to complete wheels and outer rims for a very long time now. As car enthusiasts we would never want to apply something that would get damaged when washing the car as we love keeping our cars clean. As long as the instructions are followed for installation wheel vinyl kits can last a very long time without peeling or damaging. We do recommend you don't use a powerful jet wash directly on the edges of the vinyl as this could weaken the bond, simply apply gentle water pressure and clean with a sponge as you would normally clean your wheels.
What kind of weather should I apply my decals in?
You should always try and work in a dry and cool environment when applying vinyls. Never apply vinyls in direct sunlight as the heat can cause the vinyl to stretch and distort in shape. Never apply vinyls in extreme cold temperatures as the vinyl will be harder to lay and likely to become brittle and snap.
My decals arrived folded/slightly creased/have fine marks on the surface- are they ok to use?
It is necessary to sometimes fold/ roll stickers for postage due the size. However vinyl wrap is very versatile and the premium vinyl we use have very good self-healing properties this means any crease marks or surface marks can easily be removed by applying heat using a heat gun or hair dryer after they have been stuck into position.
The sticker is not lifting onto the clear application tape – what do I do?
As we use a premium vinyl it means the vinyl is thicker than most standard vinyl's. This means it sometimes doesn't lift off onto the clear application tape easily. If this happens simply press down with a squeegee and help the vinyl off on to the clear tape by angling at 45 degrees when pulling the clear tape back. If needed help the vinyl off with your hand.
What kind of weather should I apply my decals in?
It is recommended that you should apply your decals in dry cool conditions.
You should not apply them in extreme heat or cold. In extreme heat or direct sunlight the vinyl is likely to stretch and distort. In extreme cold they are likely to become brittle and crack especially when trying to peel back and reposition stickers.
I can't find the answer to my question?
There's always one isn't there…. Lol
If you can't find the answer to your question please feel free to contact us and we will be happy to assist.
For a quick response DM us on instagram @Eaziwrap
Remember we only sell what we use our self and if it doesn't meet our standards we don't expect it to meet yours - rest assured we will only send you the best quality and products which have been designed and made with a lot passion & effort